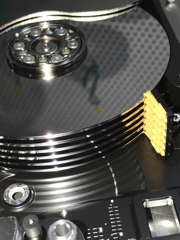 Over the phone quotation
We understand how anxious and urgent it is with your data loss that you wish to know more about the charges for data recovery, the lead time and the chances of success for the data recovery.
When you call in to enquire about the situation, please provide us with more information so that the quotation is relevant to you.
Information we require will be as follows
1) Brand of Hard Disk
2) Capacity
3) 2.5 inches or 3.5 inches
4) Internal or External
5) What is the fault of your disk that you are facing
6) What type of data do you wish to recover
7) Rough idea how much data is stored in your disk
8) Have you tried any recovery methods or sent to any data recovery company
The above information will allow us to give you an accurate quote as close as possible to the actual quote.
We will still need to examine your disk to have a confirmed quote as the actual problems might not be as serious as what you think.
FaceBook Reviews
Read more testimonials from our

facebook reviews from our satisfied customers.
Call Us Now
Call us now @ +65 96912628 directly to Louis, our friendly Data Recovery Engineer and receive professional advice, without any obligation to using our services or