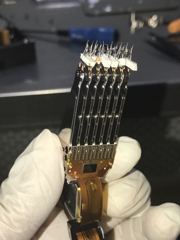 On the spot evaluation
I know how anxious that you want to know if the data is recoverable, what the percentage of success, what are the cost of the recovery and how long it will take. And you want to know it immediately or as soon as possible.
When you have made an appointment with me, I will allocate the time to give you personal attention so that I can fully concentrate on your case.
Your hard disk or phones or any other medias will be hooked on to my computers and I will personally analyse what is the problem with your disk and give you actual quote if possible. This evaluation is done in front of you. Yes, you will come into my evaluation room and we discuss the case as like a doctor to a patient. At times you may see me using a stethoscope on your disk.
You need not commit on the spot if you do not wish to. You can bring back your disk and think about it, discuss with your spouse or parents.
However, some fault on the hard disks are not easily detected and I will require about a day to pinpoint the exact cause and give you a confirmed costs.
There is no charge for this evaluation and you are free to bring up whatever questions or doubts you have. Don't feel bad about it. It is my pleasure to assist whoever has a problem with the disks.
Our Clean Room
Our Data Recovery Facility is open to view for our customers. All customers are are always invited to view our Clean Room to have a peace of mind.
FaceBook Reviews
Check out our reputation from our

facebook reviews from our satisfied customers.
Call Us Now
If you need further information, call us now @ +65 96912628 directly to Louis, our friendly Data Recovery Engineer and receive professional advice, without any obligation to using our services or